TWEET, DELICATE AND SPIRITED
December 8, 2015
Tweet is our chameleon series: it blends in in any given environment, even the most unusual. Light and stackable, tame or colorful, it is undeniably a great choice.  
The Tweet series features eight models: an armchair, a chair on casters, a chair on sled legs and three stools of different heights. The polyvalent series has a light summery feel to it, which might be attributed to the fact that none of the models weighs more than 13 pounds!
Engineering advancements made it possible for the Tweet to sustain up to 440 pounds (certified CATAS). It is partly a result of the bi-injection molded polypropylene shell, which allows for more comfort and sturdiness. The shell is then affixed to Ø14mm steel legs or Ø11mm sled legs.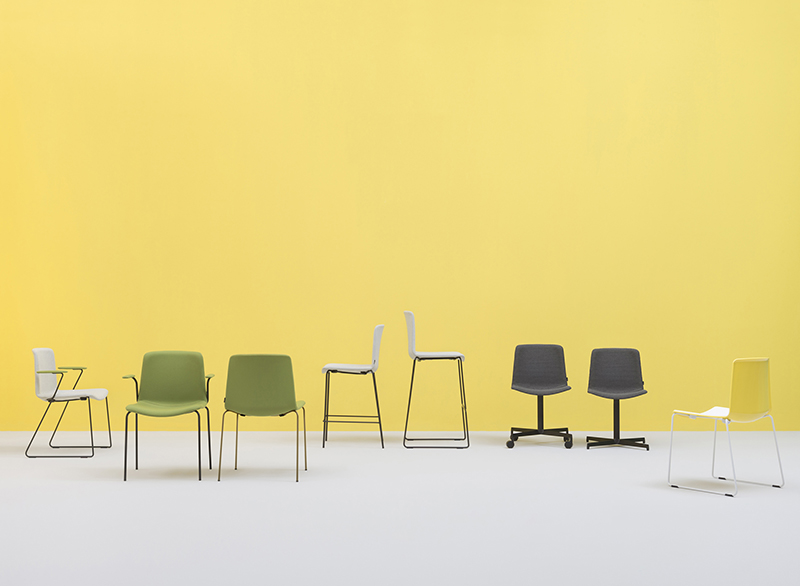 CALIENTE 
Under its delicate looks, is hidden a robust frame, a hint to its Latin essence. This is further implied in the warm hues chosen to accentuate the solid or bicolour shell.  An anti-scratch treatment is added on the seating area, the back is polished.
But what are these colors we're talking about? The monochrome shell comes in the traditional black and white, a shade of grey and a bright orange are also available. The bicolour shell comes with a default white seating area affixed to a black, grey, beige, green, yellow, orange or red back. The structure can be color matched in epoxy, chromed or chromed in black.
Considering that the chairs stack up to 10 and the stool up to 8 in less time than it takes to tweet, the Tweet family could be the next great staple of its hybrid category.